Steel Hands Brewing Company
Steel Hands Brewing has two locations in the Carolinas. The primary brewing location is in Cayce, South Carolina, located just outside of Columbia. We had the pleasure to visit the Greensboro, North Carolina location which was their second site and just opened in May 2022. They took over the old Natty Greene's location just across the street from the Greensboro Coliseum.
Steel Hands Brewing Locations
Tap Room Hours: 
Monday: Closed

Tuesday-Thursday: 12pm – 10pm

Friday-Saturday: 12pm – 11pm

Sunday: 10am – 9pm
What Types of Beer Does Steel Hands Brewing Have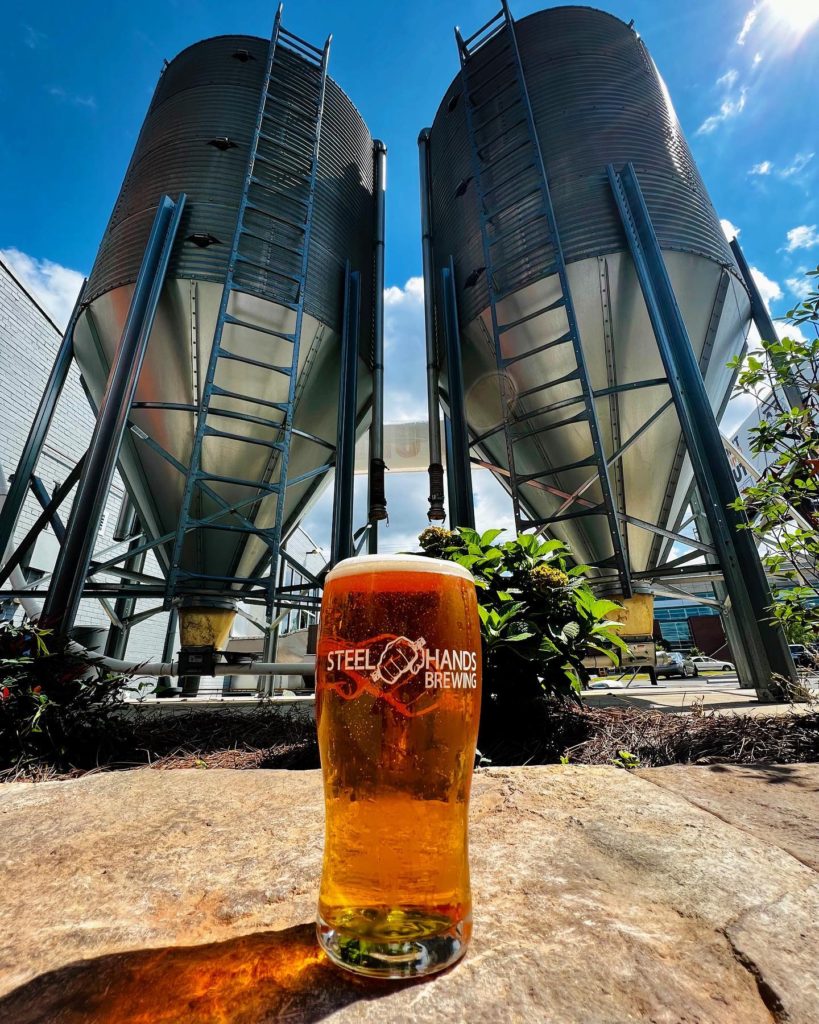 Steel Hands Brewing has a rotating taplist where you need to act fast to be able to try them all. The taps include the usual beers consisting of Ales, IPAs, Pilsners, Lagers, Sours, and Witbiers. We found the Greensboro location has a much larger taplist compared to other local breweries so there will for sure be something for everyone.
One our last visit we tried several beers and found the Papaya Hefeweizen was one of the best flavored versions of a Hefeweizen we've tried. It offered a nice fruity sweetness without any bitterness and the Papaya version hides the usual Banana flavor of Hefeweizen's.
Another enjoyable beer if you prefer something darker is their Pecan Brown Ale. We found this to have a nice drinkable smoothness and hints of pecan and chocolate.
You can check out their beer list on their website.
What Does The Inside Have To Offer 
The interior at Steel Hands Brewery in Greensboro is quite a bit larger than the building appears. There is a merchandise area, restrooms, an enclosed room where they prepare food, tables and chairs, and a bar. They do have a unique setup as you will need to order food at the front counter and beer in the back. The good thing is their system tracks your tab between the two ordering locations.
There is a stage in the back corner for live music which you can enjoy on most weekends. They play their music outside through their speaker system so you wont miss out.
Their kitchen is in the middle and inside a fully visible glass room so you can watch as your pizza is prepared.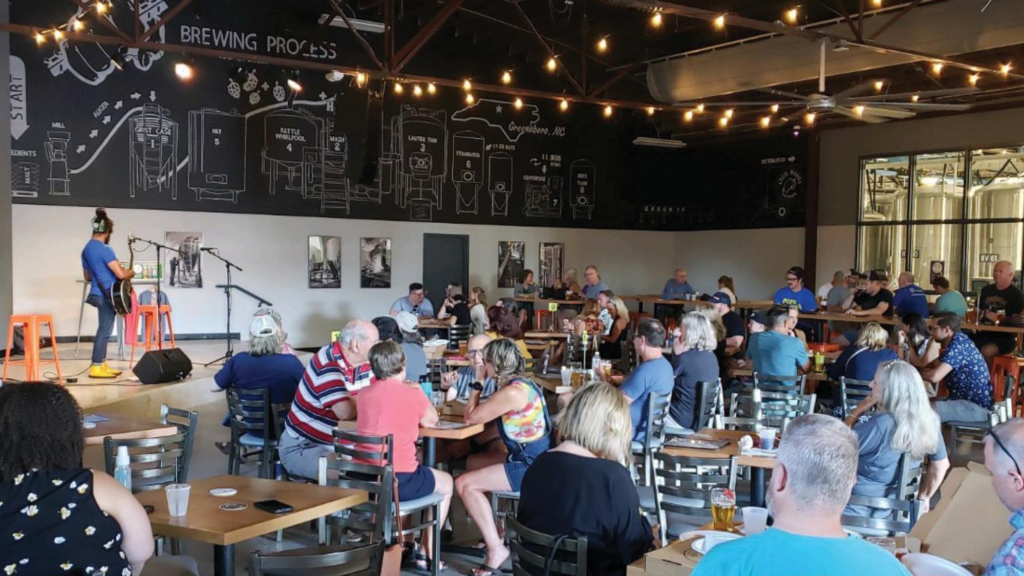 Does Steel Hands Brewing Have Outdoor Seating?

Outdoor seating is available at Steel Hands Brewing where you are able to sit with larger groups at picnic tables. Each table has an umbrella to sit under to get out of the elements unless there is a storm. We found they had a lot more outdoor seating than other breweries. There is a basketball net in the parking lot which assumed is for kids but never saw anyone playing (thankfully as bouncing basketball and drinking don't mix)

Does Steel Hands Brewing Serve Food

Appetizers, salads, and wood fired pizza are available during open hours for lunch and dinner. The soft pretzel and the smoked meats pizza were good enough to try multiple times. Bring on the carbs!!! Their pizza is enough to feed two sober people or one drunk/tipsy person.
Since Steel Hands serves their own food we did not see any mention of food trucks.
Check out their current food menu.
Entertainment – Of Course
Live music performs every Friday night at the Steel Hands Brewing location in Greensboro. They also have a Nashville Nights series which their website explains as "Nashville reigns as the Songwriting Capital of the World. We're bringing Music City to Steel Hands Brewing! Nashville Nights features special live music performances from Nashville's talented Singer/Songwriters!"
Are Tours Available at Steel Hands Brewing

There are no tours available at Steel Hands Brewing in Greensboro, however there are tours available at the Cayce, SC location.Tours are available on Fridays and Saturdays on a first come, first serve basis.
Are Kids and Pets Allowed
Steel Hands Brewing is kid and pet friendly. Pets are only allowed outside so they are not able to enjoy interior celebrations. With plenty of umbrellas there is enough shade for your pet.
Are There Other Drink Options
Non-alcoholic drink options are available at the brewery. They have a regular fountain soda machine behind their bar for those who travel to a brewery to order a soda for some reason, or for kids.
How's Parking Availability
There is plenty of availability for parking on site at Steel Hands Brewing in Greensboro. The brewery is across the street from the Greensboro Coliseum so if there is an event, parking will be tough.
Other Fun Facts About Steel Hands Brewing
Steel Hands Brewing releases a quarterly wheat ale to bring awareness to our furry friends. Quarterly proceeds of the specific brews go to supporting canines and Steel Hands Brewing donates for special needs, public safety, rescue/shelter, and service.
How did they come up with the name Steel Hands? Well their original Cayce South Carolina location is across the street from one of the nations largest rebar manufacturing plant.

Final Review of Steel Hands Brewing
Playing off the success of their South Carolina location Steel Hands is just getting their feet when in Greensboro. We expect great things as this brewery becomes more popular among the locals and when the UNC Greensboro students return and find out about this new option. We have yet to find a disappointing beer option on their taplist and their pizza ranks as some of the best in the Greensboro area.
If you visit Steel Hands make sure to stop by some of the other great Greensboro breweries like Oden Brewing, Joymongers and Southend Brewing.
For those who have visited this brewery, please leave your reviews and pics below!!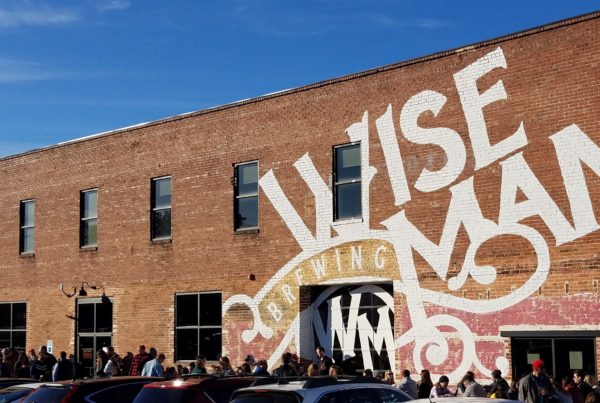 Located on the North Side of Winston Salem, Wise Man is your typically local brewery with some old style industrial complex flair. A must stop for tourist and returning locals.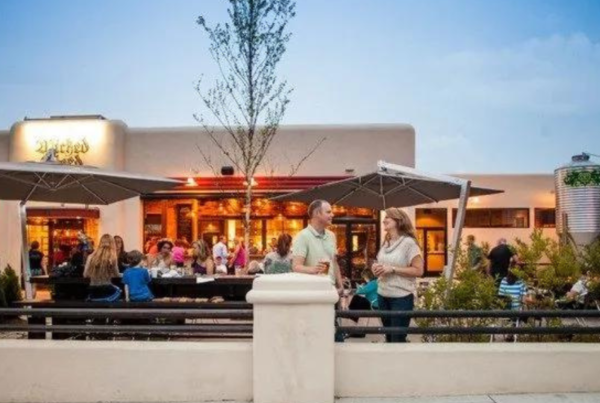 Wicked Weed has three locations across Asheville. Their two downtown spots are a must visit on your next trip to the mountains.
Steel Hands Brewing
Average rating:
0 reviews