Sierra Nevada Brewing Company
Sierra Nevada Brewing Company originated in Chico California and now has an eastern location for their fans to enjoy. Their new North Carolina location is a large brewing facility with a relaxed atmosphere for everyone to enjoy. Although the address states Mills River, this brewery is just down the road from Asheville, NC. The brews and food are memorable but when you tie in the facility, they are unforgettable. Starting off as just a dream, Sierra Nevada has become a go-to spot when visiting Asheville, NC.
Sierra Nevada Brewing Locations and Hours
Tap Room Hours: 
Sunday-Thursday: 11am – 9pm

Friday-Saturday: 11am – 10pm
What Types of Beer Does Sierra Nevada Brewing Have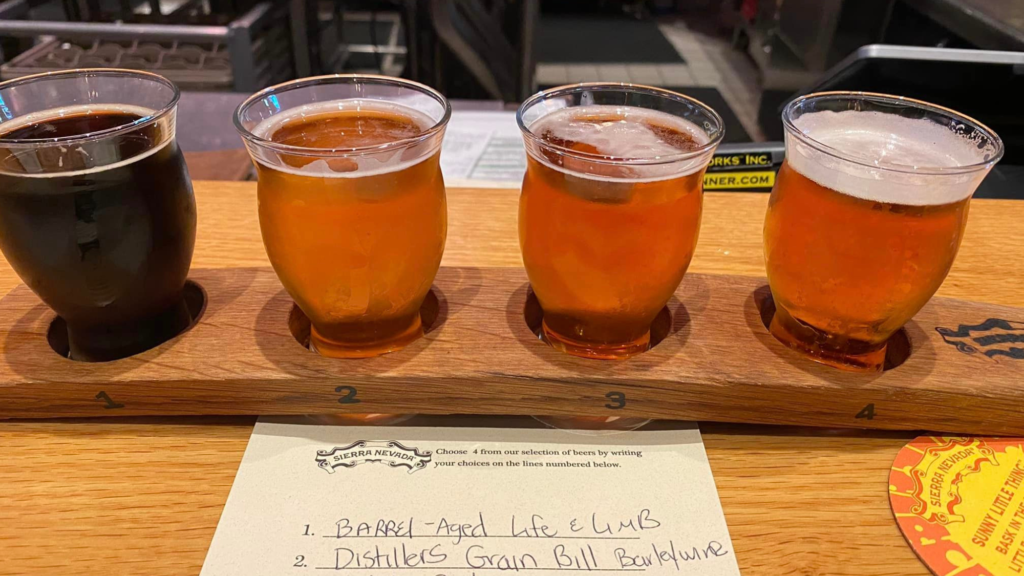 Sierra Nevada Brewing has a large variety of Porters, Ales, IPAs, and Stouts that are ever changing.  Sierra Nevada does have a consistent line of beer that is always available including their popular Hazy Little Thing and their original and most popular Pale Ale which they properly named, Pale Ale.
I especially liked their Kellerweis brew where I definitely tasted the banana bread essence and spices. No, this is not sweat but it did remind me of the desert. 
Another favorite if you like a little more hop flavor mixed with hints of mango and papaya is their Tropical Torpedo. This is a fruity take on the typical American Pale Ale.
To give you a feel, here is the current beer menu from Sierra Nevada
What Does The Inside Tap Room Have To Offer 
Sierra Nevada Brewing has a large interior where there is plenty of seating at tables and bar seating where you can just enjoy the surroundings. A group does not need reservations but due to the popularity, I would suggest reservations for a larger party during busy times.  The bar itself and the staff keep you entertained while you enjoy your brew as well as food.  Sierra Nevada has a viewing area of their brewing production that visitors can view while trying the variety of brews.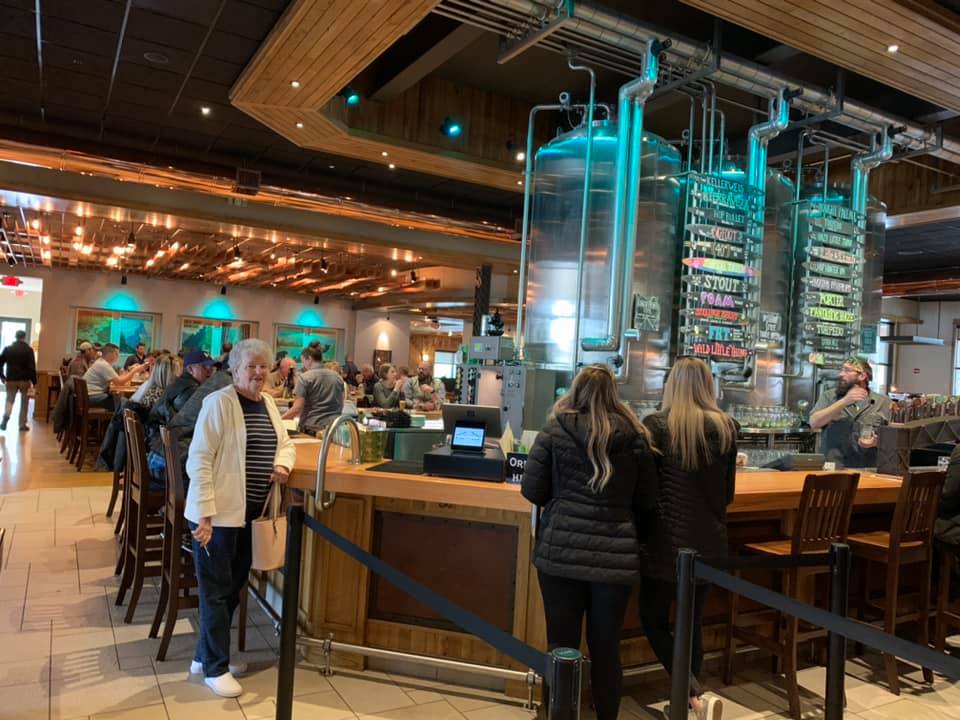 Unlike many smaller breweries which mostly focus on beer and offer a food truck, Sierra Nevada is designed more like a restaurant on the inside. Keep this in mind when visiting as the ability to walk up and order a beer is a little more limited here as a majority of your seating area is for those enjoying both the beer and food.
Does Sierra Nevada Brewing Have Outdoor Seating?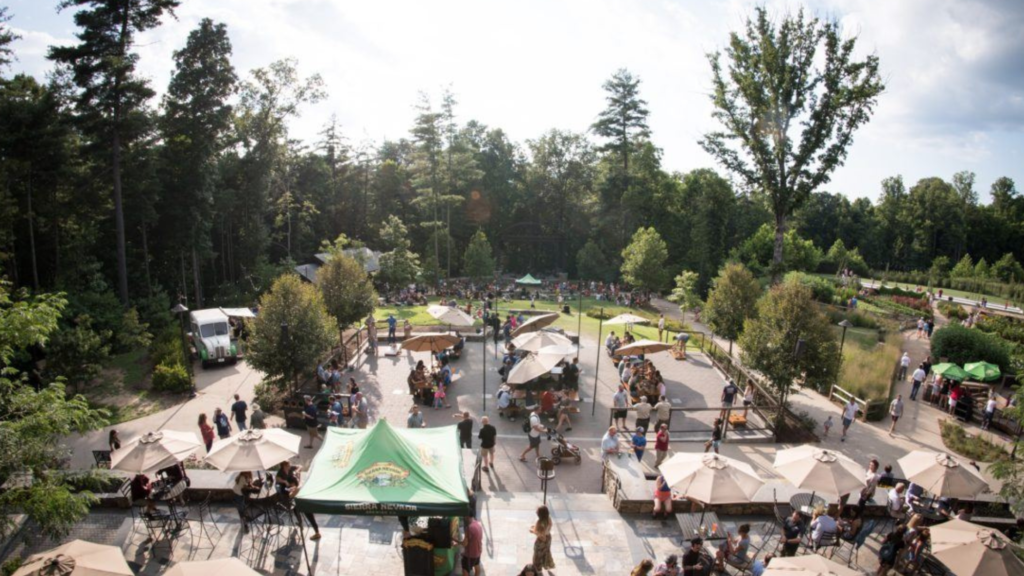 Sierra Nevada has a vast outdoor seating area which includes tables and fire pits to enjoy. Sierra Nevada calls this the Back Porch. Weather permitting, this is a great space to enjoy for the relaxed feel. Sierra Nevada does not offer every brew in the outside space but the selection is still plentiful.
We found this is where the kids go. Inside is mostly an adult scene but during warmer weather months expect to see families and their kids out back. The whole outside area is pretty cool overall and has room for small concerts, games and more.
Does Sierra Nevada Brewing Serve Food

Sierra Nevada Brewing offers a large menu inside the taproom. Out in the Back Porch, there is a smaller selection of food that is mouth watering. I recommend the pretzel with beer cheese or any of the wood fired pizzas. Every time we are in the Asheville area, this is a must for a brief stop.
While their menu is smaller compared to a standard restaurant there doesn't appear to be a bad option and even has some unique options like their Succotash Salad, whatever that actually is.
What Types of Entertainment is Available at Sierra Nevada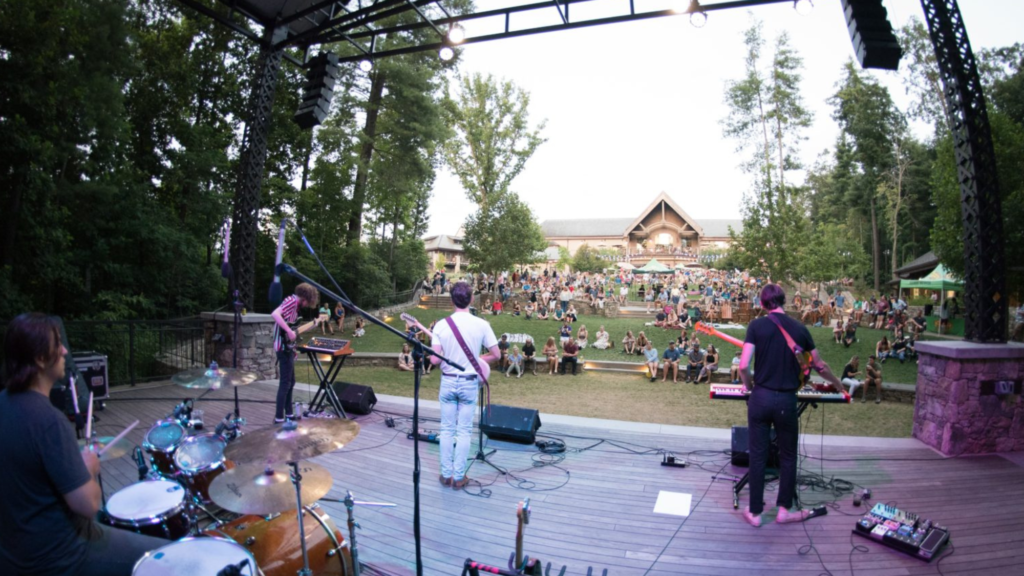 Sierra Nevada has plenty of entertainment. Sierra Nevada has a variety of live music on Tuesdays, Wednesdays, Saturdays, and Sundays. The schedule is listed on their website.
Their outside amphitheater host many artist from around the area and region. This is a cool setup for those who want to relax with some beer, great food and entertaining music.
To keep up to date, their events menu can be found here.
Are Tours Available at Sierra Nevada Brewing

Tours are available at Sierra Nevada Brewing and I would highly recommend booking an appointment to ensure a spot due to small tour size. Sierra Nevada brewing has a large self-sustaining facility where I highly recommend the tour. I believe once you view the process and hear the story behind the brewery, the beer tastes that much better.
Are Kids and Pets Allowed
Sierra Nevada is a family friendly environment where kids are welcome. Dogs are not allowed inside unless ADA approved, however they are allowed in the outside area but should be on a leash.
Are There Other Drink Options
Sierra Nevada has expanded into hard kombucha. I am not a fan but many within my group truly enjoyed their creation. Sierra Nevada also offers a small selection of wine and non-alcoholic beverages, including a non-alcoholic brew.
Where Can You Park at Sierra Nevada
Sierra Nevada has a significant number of parking spots directly in front of the building. There should not be any issue with finding a parking spot but finding a spot near the front door may be a problem.
Other Fun Facts About Sierra Nevada Brewing
Sierra Nevada Brewing started as any typical craft brewery, with an idea and a dream. The founder and owner, Ken Grossman started his home brewing journey before he was old enough to legally partake in drinking alcohol. In 1978, Ken Grossman was hiking in the Sierra Nevada mountains and his dream took shape. Sierra Nevada brewing officially started in 1980 where he utilized retired farm equipment to create his brews. From that first year, Sierra Nevada brewing has taken off and has expanded to multiple locations.
Sierra Nevada Brewing also has their original brewery and taproom in Chico, CA and now one in Berkeley, CA. We have not visited these locations but they are on our to-do list.
Our Final Review of Sierra Nevada Brewing
You would never think this is their second location by the size and impressiveness of the building. One thing is clear as your drive in through the half mile long entrance and see their huge building, Sierra Nevada has made some money. This speaks to the overall quality of their beers and their popularity.
The long entrance into the facility is lined with expensive wooden rails and laid bricks. The building itself is massive and the design work is extensive. This is not a hole in the wall local brewery.
We love their food menu and their brick oven pizza is one of the best around. With a long list of beers there is certainly something for every style of beer lover.
Next time you find yourself in Asheville make sure to stop by and give yourself some time to enjoy their beer, food, entertainment out back and their tour of the sprawling facility and production center.
Make sure to also visit other Asheville area breweries on your next visit. We suggest stopping by Highland, Green Man, New Belgium and Wicked Weed.
For those who have visited this brewery, please leave your reviews and pics below!!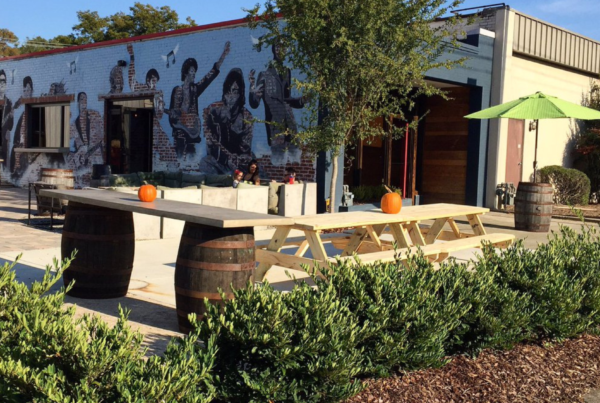 Located on main street in High Point Brown Truck Brewery is a must stop when passing through. Grab some BBQ next door and choose from one of their refreshing beers!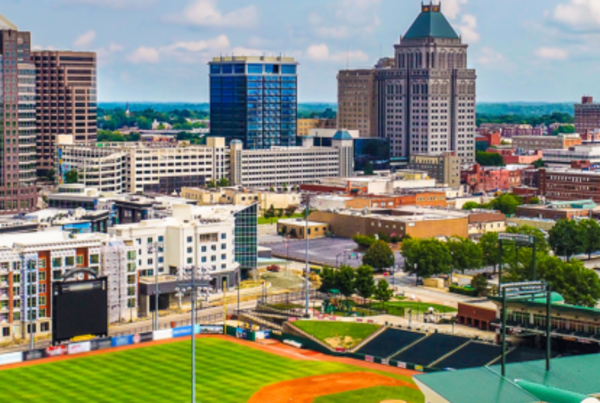 Greensboro is a growing city in the national beer landscape. Make sure you stop by some of these great options the next time you are in town.
Sierra Nevada Brewing
Average rating:
0 reviews