Oden Brewing Company
Oden Brewing Company has something for everyone to experience. Both inside and out, Oden Brewing Company has a relaxing feel which is welcoming to everyone. The building has been in the Oden family for years and they have opened it up for the community to enjoy as a brewery. 
Brewery Location and Hours
Location: 802 W Gate City Blvd, Greensboro, NC
Phone: (336) 285-8439
Website: odenbrewing.com
Tap room Hours: 
Monday: 2pm -10pm
Tuesday-Thursday: 2pm -11pm
Friday-Saturday: 12pm -12am
Sunday: 12pm -10pm
What Types of Beer Does Oden Brewing Company Offer?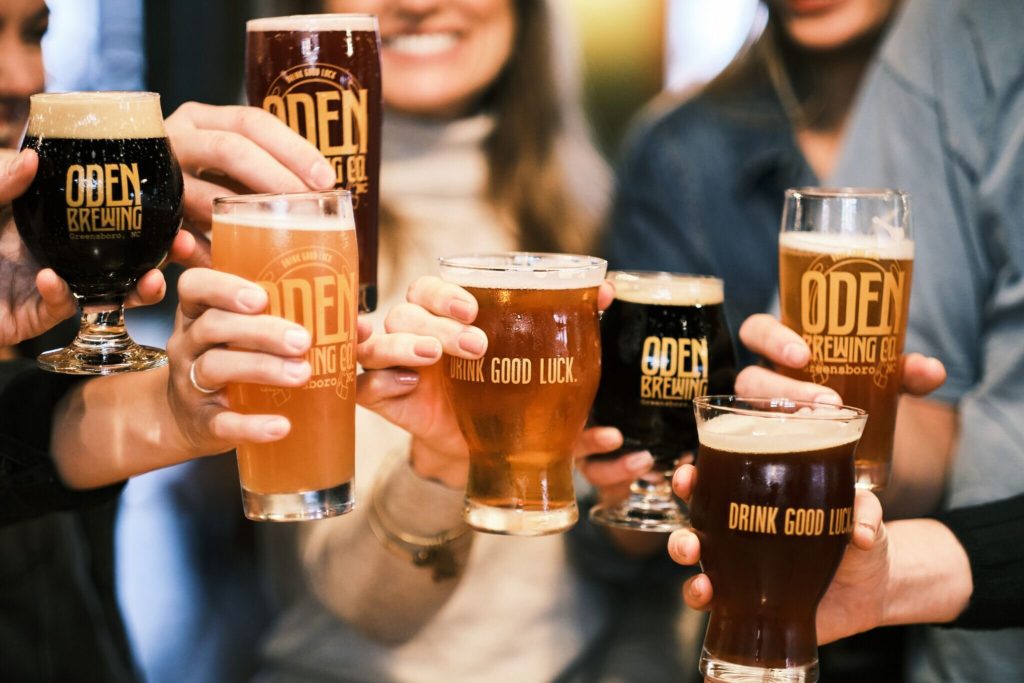 Oden Brewing has a nice variety of beer options across various styles of beer. Like most craft breweries their menu includes a selection of Kolsch's, brown ales, lagers and various styles of IPA's. We found enough variety for everyone to enjoy.
Some of the beers we've tried:
Escape into Summer Lager which is infused with fresh ginger, lemon peel, and grains of paradise for an herbaceous, spicy, and lemony kick.
Smarter Than The Average Bear Honey Brown Ale which is a lower ABV and super drinkable brown ale. They source their honey locally for this one.
La Curva Sud Italian Pilsner which is brewed at a slightly higher temperature than German Pilsner for a slightly more fruity flavor.
You can see their current beer selection here.
What Does The Inside Have To Offer 
The interior of Oden Brewing is intriguing due to the Oden family renovating the old bottling building into a brewery. They did a great job keeping the rustic warehouse feel whiile also modernizing the interior to feel new and clean. There is plenty of seating for a family to pull out a board game, play foosball, or just sit and relax with a beer. Everywhere you look, there is detail to admire; even the restrooms.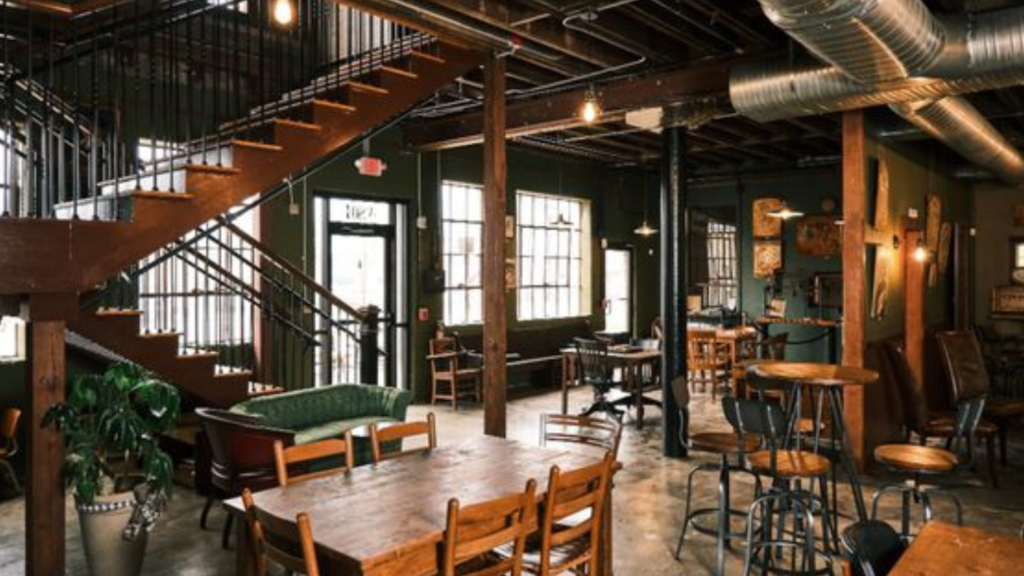 Does Oden Brewing Have Outdoor Seating?

Oden Brewing has a large space outside for everyone to enjoy. There is a large porch with plenty of seating to sit under a roof yet enjoy the outdoors. A large number of tables are available behind the three buildings. Oden Brewing owns all three buildings where everyone is able to sit on the porches and watch the entertainment. The buildings look like someone's home but they are actually used as offices for the family.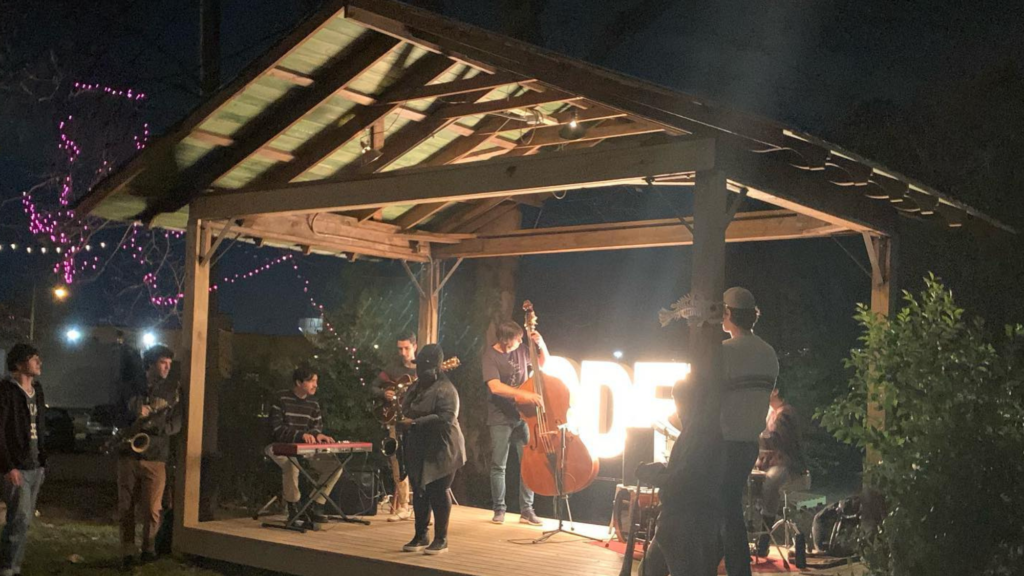 Does Oden Brewing Serve Food
While they did not serve their own food Oden Brewing has a consistent schedule of food trucks which are often located behind the building near the outdoor stage.
Entertainment – Of Course
Trivia, Bingo, and live music are a constant at Oden Brewing and you can see their schedule on the website. There is a large stage outside and plenty of seating to enjoy some music in the sun.
Are Tours Available at Oden Brewing

At this time they do not offer tours of their brewery but it will never hurt to ask during your visit.
Are Kids and Pets Allowed
Oden Brewing is family friendly and pets are allowed outside as long as they are well behaved. There is plenty of space outside for dogs and a lot of soft grass.
Are There Other Drink Options
Wine, ginger beer, ciders, seltzers, bitters and Capri Sun for the kids (or adults who feel young) are available. 
Where Can You Park at Oden Brewing
Oden Brewing has a large parking area behind their buildings. Some spots are paved but if more room is needed, there is a dirt parking area.
Other Fun Facts About Oden Brewing Company
Oden Brewing Company is located in the old Buffalo Rock Bottling Plant where the Oden family bottled soft drinks in the early 1900's. The Oden family repurposed the building where they are now brewing and serving their beers to the community. 
Throughout the year, Oden Brewing Company holds a market called the Full Circle Market on their premises where locals can share their creations.
Final Review of Oden Brewing Company
This was one we were told we need to visit (even by another brewery in Greensboro) and the recommendation did not fall short. With a great use of an old factory and a large outdoor seating area the brewery offers a lot. We have yet to find a bad beer on their menu and their food trucks have offered a wide variety of great lunch style food options. With easy parking and games for the kids this spot hits all the requirements of a family friendly brewery.
For those adults and kids who love trains, the brewery property is right up against an active freight line with trains passing every few minutes.
For those who have visited this brewery, please leave your reviews and pics below!!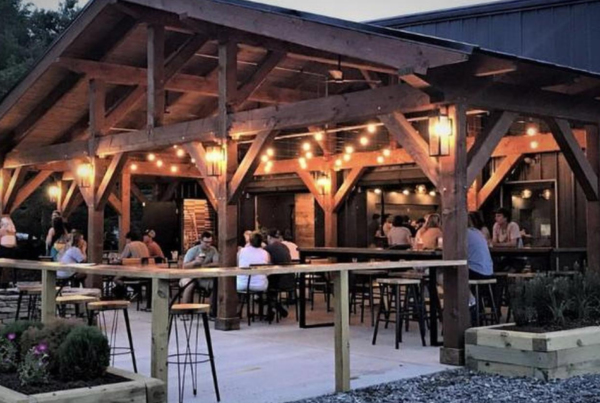 Booneshine Brewing Company is located just outside downtown Boone and is the newest beer addition to the area. With an inside tasting room, full menu and outside beer garden, Booneshine…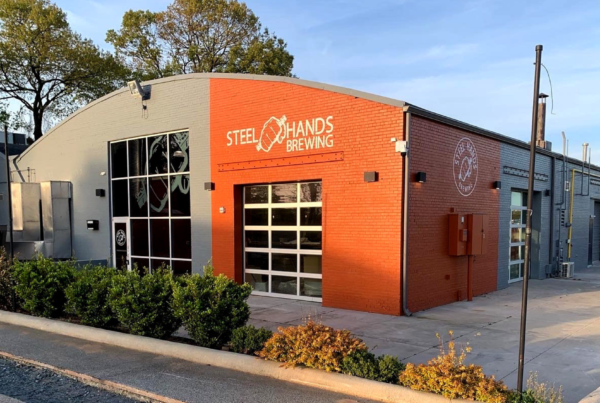 Steel Hands opened their Greensboro location in May of 2022 in the old Natty Greene's location. Pizza, beer and entertainment, what else can you ask for?
Oden Brewing Company
Average rating:
0 reviews