Green Man  Brewing Company
One of Asheville North Carolina's original breweries Green Man has been in business since 1997 on the south slope of the city. This part of Asheville is full of great food, beer and breweries. Green Man is one you will want to visit.
Green Man now has three different locations, sort of. Their Original Dirty Jacks is where they brew most of their beer and has more of a pub feel inside. Their new Green Mansion is a three story building which features their packaging facility and two floors of tasting rooms. Finally their new Green Man Eats allows beer drinkers at either location to order food and have it delivered.
Considering a trip to Asheville soon? We'll tell you why Green Man is a must visit plus some other breweries you will need to swing by but you'll have the to wait to the end of this review for those.
Green Man Brewing Locations and Hours
Green Mansion Hours: 
Sunday – Thursday: 12pm – 9pm
Friday – Saturday: 12pm – 11pm
Dirty Jacks Hours:
Monday – Thursday: 2pm – 9pm
Friday – Saturday: 12pm – 11pm
Sunday: 12pm – 9pm
What Types of Beer Does Green Man Brewing Have?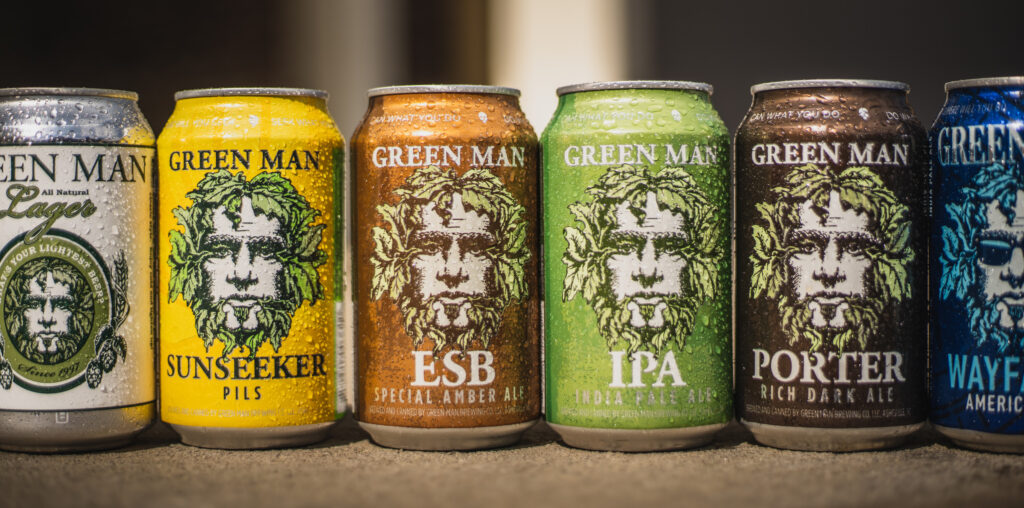 Green Man Brewing has a wide variety of beers on tap and a consistently changing selection of seasonal beers. While they do have a variety of the common craft brewery selections like IPA's and other Ales, they do not have a lot of wheat style beers on tap. We tried several beers on top and below are two we suggest.
Green Man Porter: This British Style Porter pours dark and heavy. As a fan of porters we found that Green Man's hits the mark as advertised. Like most porter style beers this has a hint of chocolate and a creamy mouthfeel to it. The flavor was not overpowering as some porters have a distinct chocolate flavor.
Green Man Wayferer: For those IPA fans this one was our favorite. An American style IPA this beer is lighter on the hops and focuses on a fruity flavor profile of grapefruit, peach and apricot. Although, the grapefruit and peach was more pronounced. This one goes down easier then the heavier and hop heavy IPA's found elsewhere.
To give you a feel, here is a their current beer menu.
What Does The Inside Tap Room Have To Offer 
The Green Mansion: This is their newer location with three floors and a gift shop. While the second floor is only open to the public for bathrooms, the packaging facility can be viewed from the third floor tasting room.
The lower level has the gift shop and another smaller tasting room area plus access to the outside firepits.
This location has a ton of space and the top floor is loaded with tv's and an outside patio overlooking some of the downtown area. Keep in mind Asheville tends to be cold in the winter months and the outside area, while heated, was still a bit chilly during our visit.
We found this location to extremely clean and lacking the feel of many smaller breweries intimate brew pub style. It felt more like a hipsters loft apartment lobby then a brewery.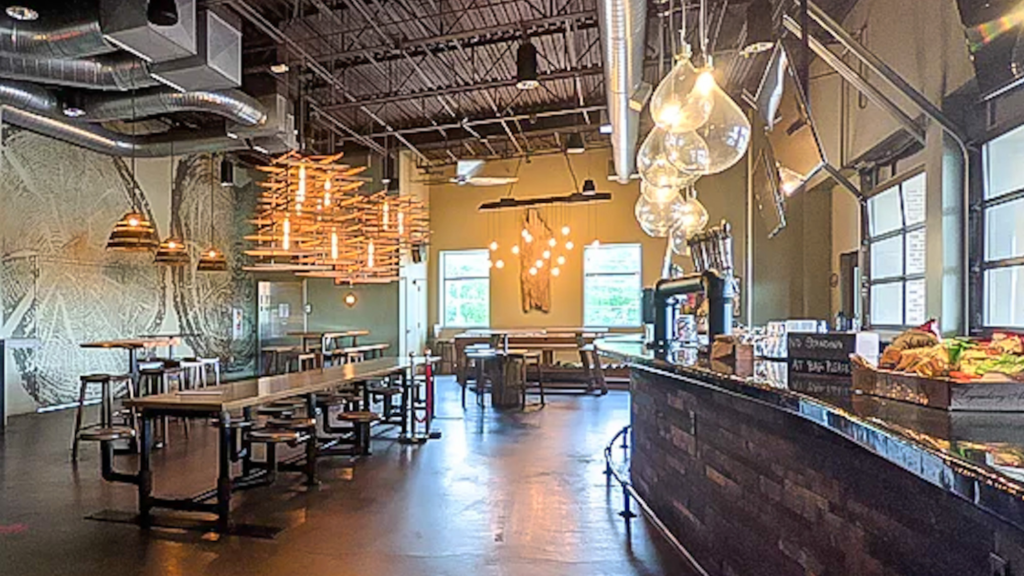 Dirty Jacks: Now if you are looking more for a smaller and less clean (not dirty just not polished) brew pub then Dirty Jacks is for you. This is where the beer is actually brewed and has a very unique feel. With Asheville having some big name breweries this little tasting room brings a craft brewery feel back to Green Man.
Dirty Jacks is their original location and one of the original tasting rooms in the Asheville Area. With some barstools and wooden tables it has a true small brewery feel that we liked a lot.
Does green Man Brewing Have Outdoor Seating?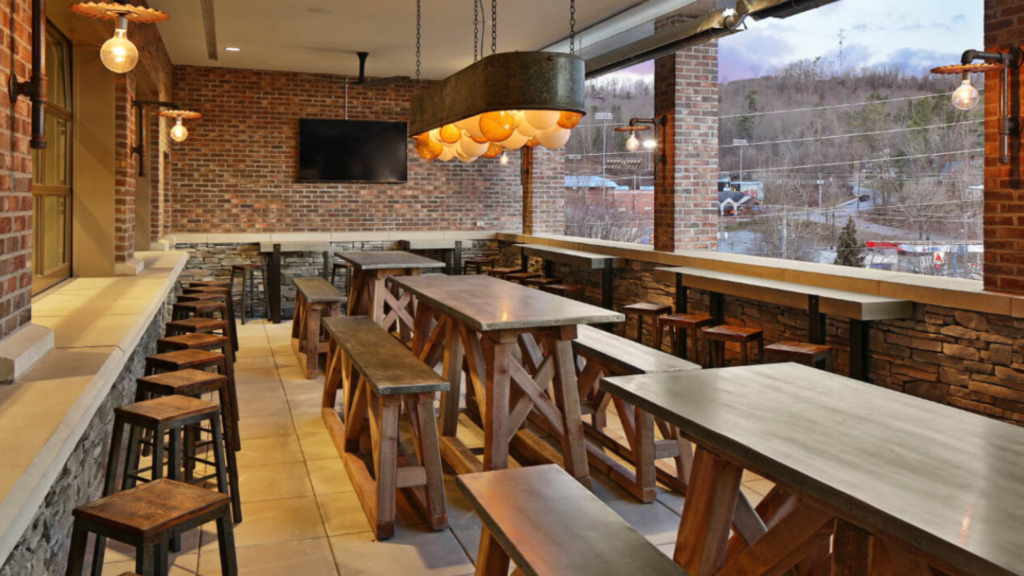 Both locations for Green Man have outdoor seating. While the Green Mansion has some firepits and a small outside area on the street level they do have a larger patio on the third floor which has tv's and some heating. It also connects right to their bar for easy beer access.
Dirty Jacks has more picnic table style outside seating at their location. It is covered for shade in the summer and to avoid the bad weather Asheville can be known for in both the summer and winter months.
Does Green Man Brewing Serve Food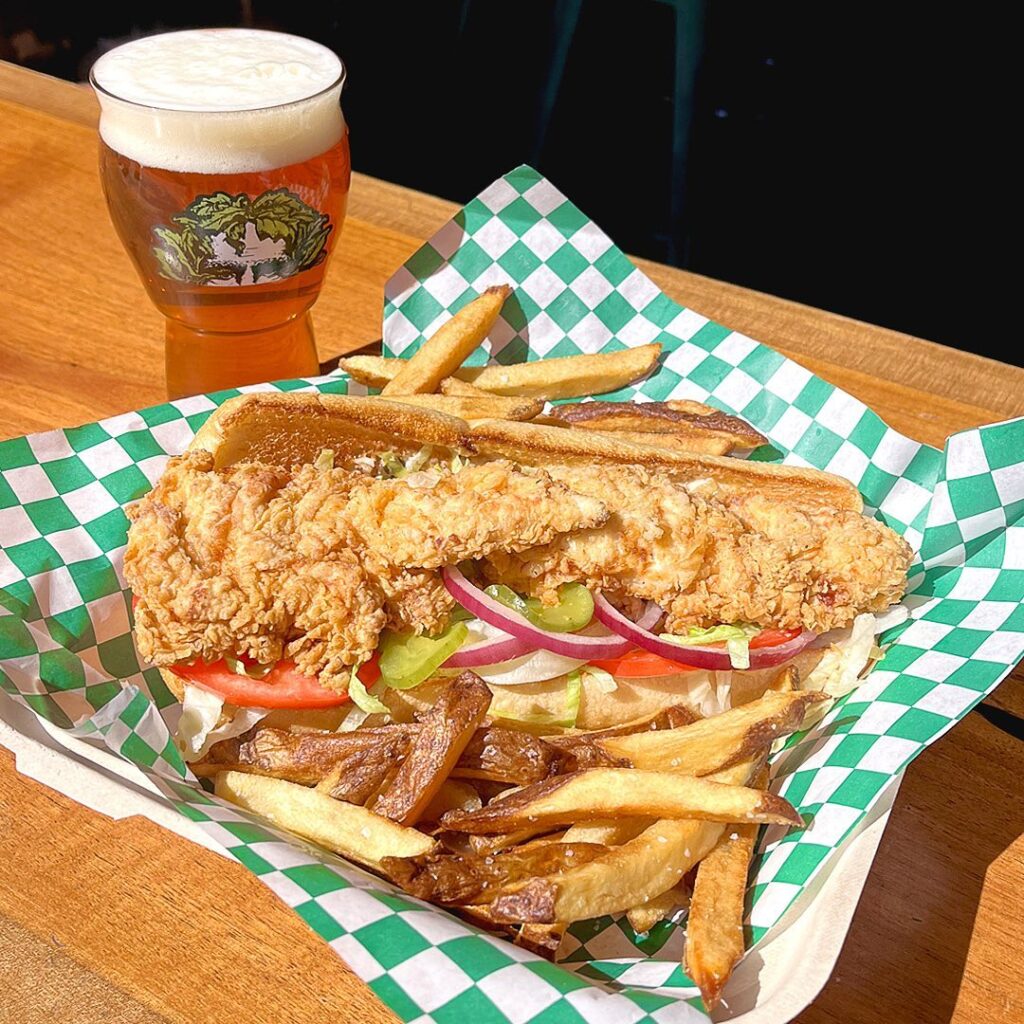 Green Man has opened Green Eats which has a pretty large food menu for a brewery and will deliver it directly to your location. This makes it easy to sit down for a few hours, watch some football on their many tv's and order a meal. You can check out their menu here.
What Types of Entertainment is Available at Green Man Brewing
At least according to their events menu all of the bands and entertainment is location at Dirty Jacks. The Mansion is filled with tv's and is more of a sports bar style while their tasting room at Dirty Jacks is better suited for small bands. They may have some events at the Mansion but were not doing anything of note while we visited.
Are Tours Available at Green Man Brewing

There were no tours advertised while we visited but if you head over to the Green Mansion and sit on the third floor you overlook their entire packaging facility. So this is sort of a self tour.
Are Kids and Pets Allowed
Green Man states on their website that they welcome both kids and pets as long as they are well behaved and do not disturb the other guest.
Are There Other Drink Options
Green Man's website states that they have a Craft Hard Cider produced in collaboration with their neighbor Urban Orchard. For wine they have Sauvignon Blanc and Pinot Noir canned locally at Pleb Urban Winery, or try their Ginger's Have Soul ginger beer. Green Man also has non-alcoholic Root Beer as well as a rotating selection of Devils Foot Soda's and La Croix sparkling water.
Where Can You Park at Green Man Brewery
There are plenty of public paid spots in lots across the street from the Mansion and next to Dirty Jacks. You can also find plenty of street parking around the area.
Other Fun Facts About Green Man Brewing
Green Man is one of Asheville oldest breweries and taprooms. Located on the edge of downtown Asheville you are a short walk from just about everything there is to do. Whether it is other breweries, the Asheville Tourist minor league baseball stadium or Buxton Hall BBQ, there is something for everyone on the south slope area.
Final Review of Green Man Brewing 
Green Man Brewing is unique in that it offers two distinctively different taprooms right across the street from each other. Each has a different feel and offers beer drinkers two different settings. We liked the fact that the mansion had a third floor patio and tons of tvs. The patio has plenty of seating and is a great place to escape some of the inside noise for good conversation.
The beer is on par with most of the other breweries in the Asheville area which is known for its breweries. With a wide selection you will definitely find a beer you like. If you are unsure which one to try I would suggest a flight to start.
We did not get a chance to try out their food but the reviews online are nothing but positive. This is a great spot for sports fans who want to drink some beer and order some bar food. Many of the local breweries are not setup this way.
While in the area make sure to swing by Sierra Nevada, Highland Brewing and New Belgium. You can also find some great food over at Wicked Weed's Funkatorium.
For those who have visited this brewery, please leave your reviews and pics below!!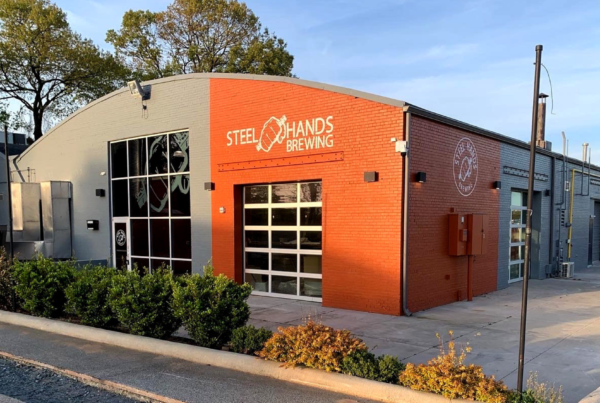 Steel Hands opened their Greensboro location in May of 2022 in the old Natty Greene's location. Pizza, beer and entertainment, what else can you ask for?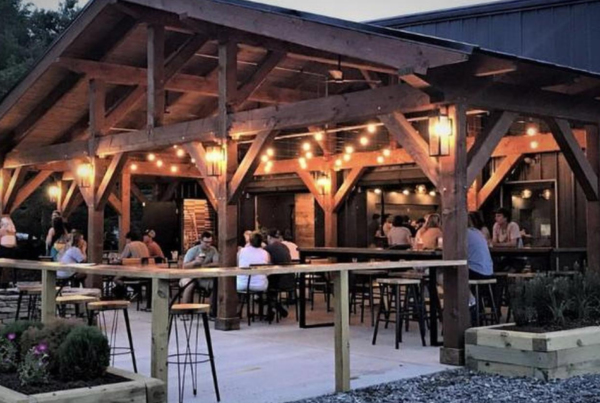 Booneshine Brewing Company is located just outside downtown Boone and is the newest beer addition to the area. With an inside tasting room, full menu and outside beer garden, Booneshine…
Green Man Brewery
Average rating:
0 reviews